Kevin Wong completed his MASc Thesis Defence! - December 5th, 2014
Congratulations Kevin Wong on your successful completion of Masters of Applied Science!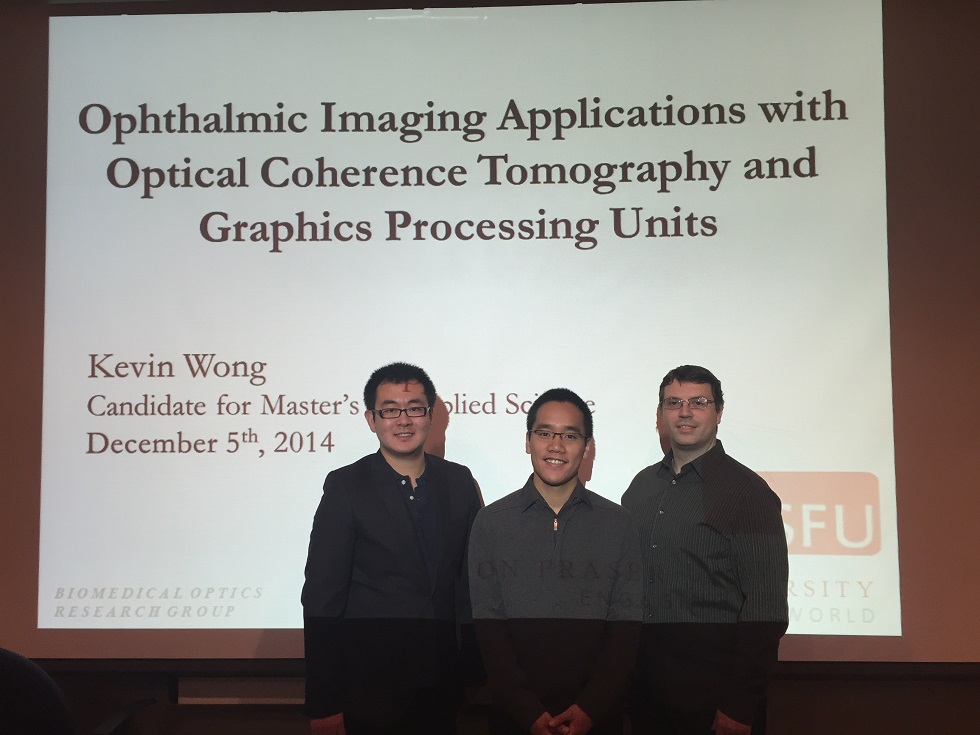 Dr. Jing Xu Completed her PhD Thesis Defence! - December 1st, 2014
Congratulations Dr. Jing Xu on your successful completion of your well-deserved Doctorate of Philosophy!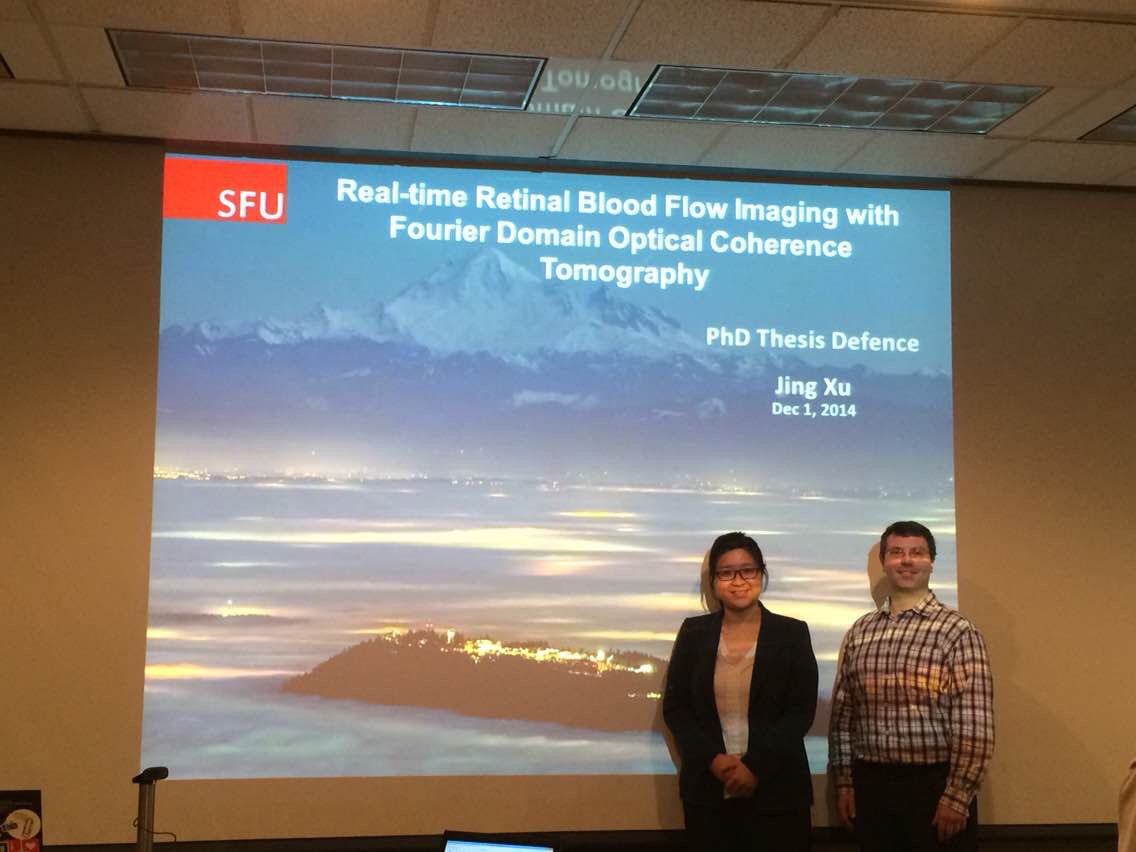 Xiyun is the winner of the MITACS Photo Contest! - August 22nd, 2014
Xiyun, our MITACS student from China, is the winner of the 2014 Photo Contest! Congratulations Xiyun!
MITACS Website Featuring Xiyun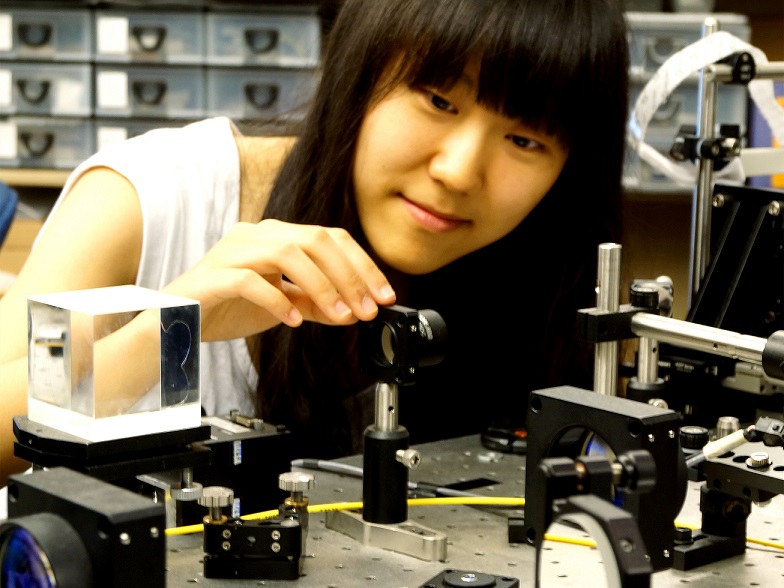 BORG BBQ - July 30th, 2014
The annual BORG BBQ at Barnet Marine Park with our new co-ops, Rohini, Morgan, and Steven, and our MITACS student, Xiyun!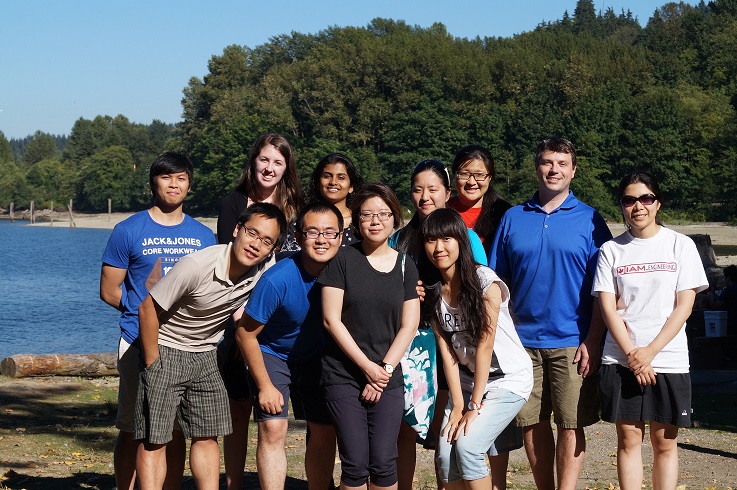 BORG Graduation! - June 11th, 2014
Congratulations to our newest graduates! Dr. Yifan Jian, Master Michelle Cua, Master Lukas-Karim Merhi, Maxwell Miao, Martin Gradowski, and Vincent Wong, good luck with your future endeavours!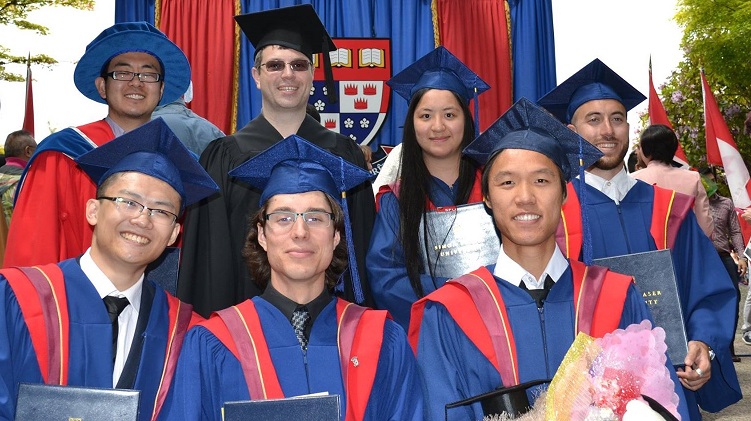 CMBEC - May 21st, 2014
Sujin, our superstar undergrad, gave an outstanding presentation at the annual CMBEC!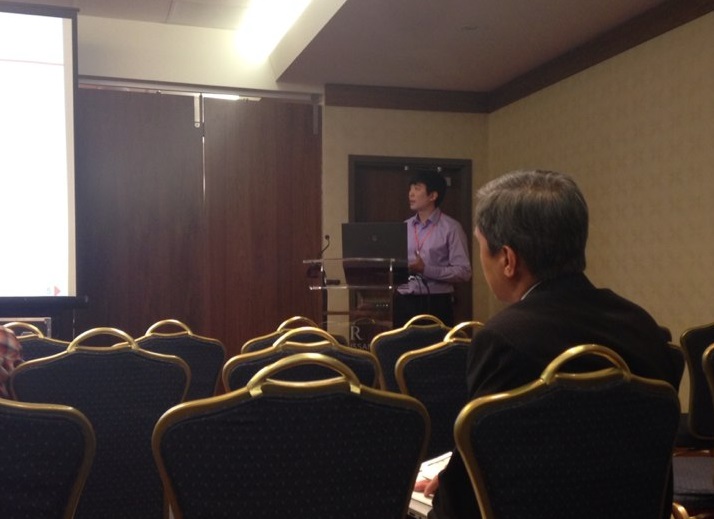 End of Semester Sushi! - April 25th, 2014
Sushi gathering on April 25th, 2014 with MIAL and honourary guest Dr. Robert Zawadzki, to celebrate Yifan's PhD defence, Michelle's MASc defence, and Evgeniy's new career! Congratulations!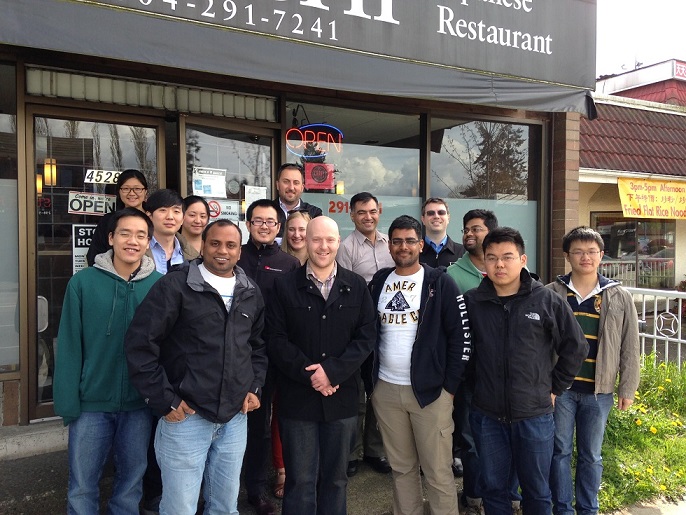 Lukas' MASc Thesis Defence! - February 28th, 2014
Our MASc student Lukas-Karim Merhi defended his thesis successfully on Feb 28, 2014. Congratulations!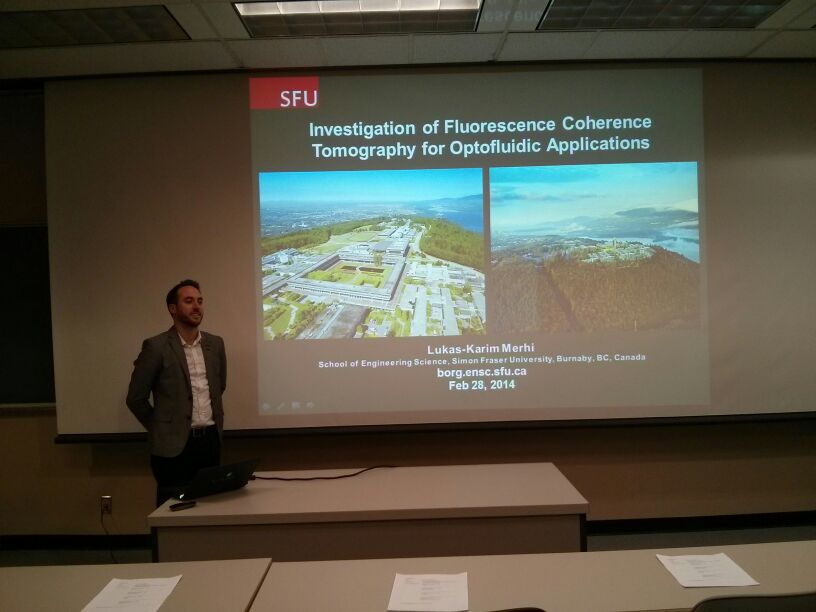 Evgeniy's graduation day! - October 2013
Dr. Evgeniy Lebed has completed his PhD! He is now a Post-doc in BORG.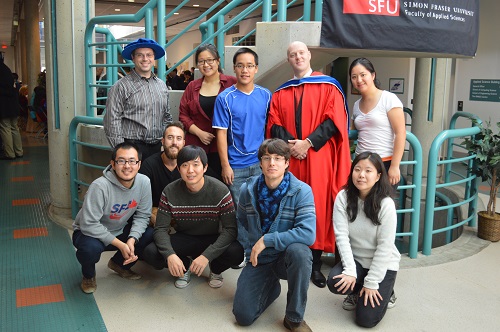 Social Gathering day!
Social gathering in October 2013, with our lovely exchange student from India, Bhuvana!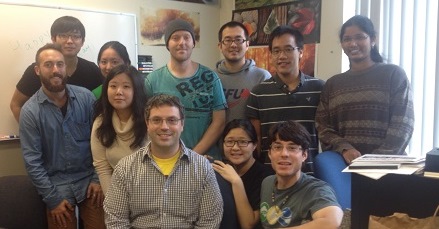 Kevin's graduation day! - June 2013
Kevin Wong, our Superstar undergraduate RA, received his Bachelor's degree in Engineering Science in June 2013. He is also one of the two new incoming graduate students this coming Fall:-)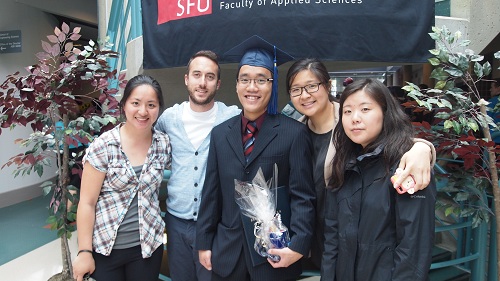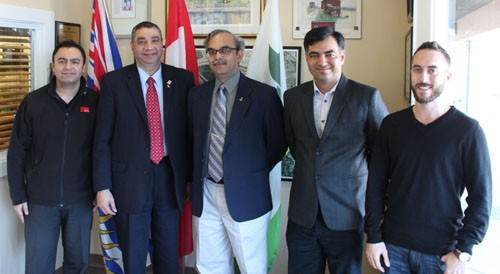 Left to right: Nav Chima, MLA Dave Hayer, Dr. Soumyo Mukherji, Dr. Faisal Beg, Lukas-Karim Merhi.
SFU School of Engineering Science associate professors Dr. Mirza Faisal Beg and Dr. Marinko Sarunic, along with MASc candidate Lukas-Karim Merhi and the SFU BC-India Mobility Initiative, recently played hosts to Dr. Soumoyo Mukherji of the Indian Institute of Technology in Bombay.
Mukherji came to explore collaboration between BC and India in general, and SFU and IIT-B in particular, largely focusing on building graduate student exchanges and funding for general mobility between the two institutions. These exchanges would help to expand and strengthen the technological relationship between the universities, leading to diverse research outcomes.
A professor in IIT-B's Department of Biosciences and Bioengineering and Head of the Centre for Research in Nanotechnology and Sciences, Mukherji met with several SFU faculty members and senior administrators, numerous business and medical professionals and community members. Exposure to various research and activities undertaken by SFU faculty, students, and community at large provided Mukherji with a deeper understanding of the university's strengths, helping to highlight the many ways in which SFU would be an ideal host to IIT-B exchange students.
To kick off his stay, Mukherji presented a history of IIT-B – established in 1958, with approximately 40,000 graduates to date – and outlined one of its focal research areas within the last six years: nanotechnology. The presentation included a 6-8 year journey of select IIT-B researchers who have collaboratively created sensing devices for molecular markers of myocardial infarction, explosives (like TNT), waterborne bacteria (like E.Coli), and other exciting endeavours.
Mukherji also met with doctors at Royal Columbian Hospital, discussing prevalent diseases in India, and receiving an introduction to the Canada India Network Society and South Asian Health Institute. He visited the City of Surrey's Economic Development Office and the MLA of Surrey-Tynehead to discuss increased ties with India at the provincial and federal levels in education, trade and investment.
As a result of Mukherji's visit, the groundwork was laid between IIT-B and SFU to facilitate the exchange of students and faculty. A grassroots approach to collaboration will continue in order to successfully implement this mutually advantageous initiative. SFU FAS has already committed to sponsoring at least one graduate student from IIT-B to spend four months at the School of Engineering Science. This student would continue work on a project initiated by SFU's Merhi, who previously visited Mukherji's lab at IIT-B.
Conferences and workshops by different members of the SFU community are also being planned for 2013 to be held at IIT-B.
Dr. Mukherji with Lukas-Karim Merhi during Merhi's visit to the Indian Institute of Technology.
Ekin's graduation day! 2012
"Ekin, a talented and funny member of our BORG, received his Bachelor's degree in Engineering Science in October, 2012. Wish him all the sucess in his future!"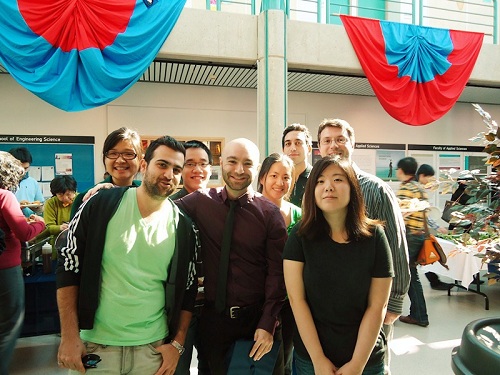 BORG members at the annual BBQ Picnic 2012
"Every year, BORG members host a BBQ Picnic; which took place in Barnet Marine Park in the year of 2012. This allows members to communicate and bond outside work."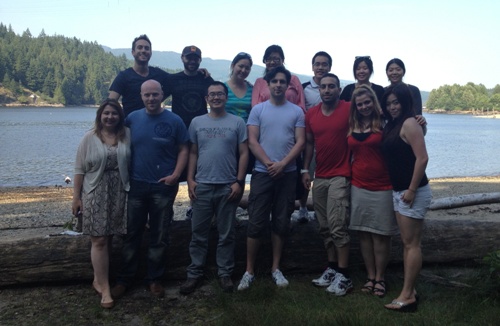 Lukas-Karim Merhi wins award at SPIE Photonics North 2012
"Lukas-Karim Merhi was awarded best oral presentation among students and post docs in the Bio-Medical-Infection conference session. He presented on behalf of Dr. Marinko V. Sarunic and his collegue Yifan Jian on the topic of 'Pre-clinical retinal imaging with Adaptive Optics Fourier Domain Optical Coherence Tomography'"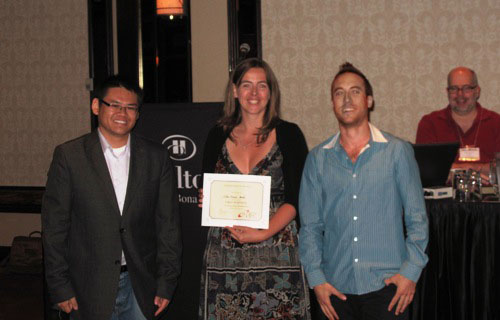 BORG members volunteers at SFU Open House 2012
"Simon Fraser University welcomed approximately 19,000 guests to its largest community open house on Saturday, May 26. Booths were located throughout campus to showcase the versatility of programs offered at SFU. The SFU Carnival proved to be a huge success for families, with face painting booth, games, free prizes and cotton candy."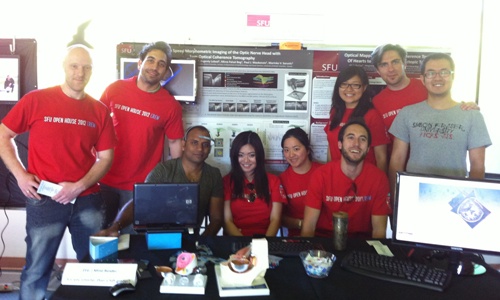 BORG members volunteers at Vision Quest 2011

"Ideal for patients, family and friends, the Vision Quest forum is a unique patient conference that offers the opportunity to learn about new and exciting research, ask questions of top retinal experts, and meet others." More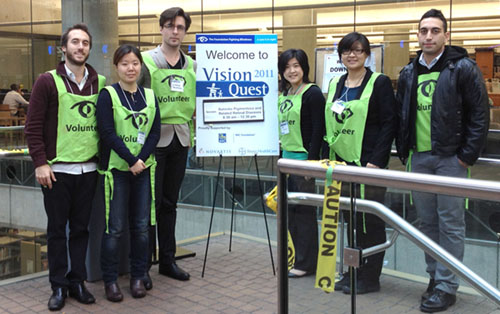 ---